DISCOVER
Which outfit for urban cycling and to encourage people to cycle, whoever they are, wherever they go, whenever they want?
Cyclists have a very important role in the promotion of cycling around them. Showing that using a bike is easy, civilised and accessible to all is essential. Is your attitude and outfit making you an ambassador of easy and relaxed cycling?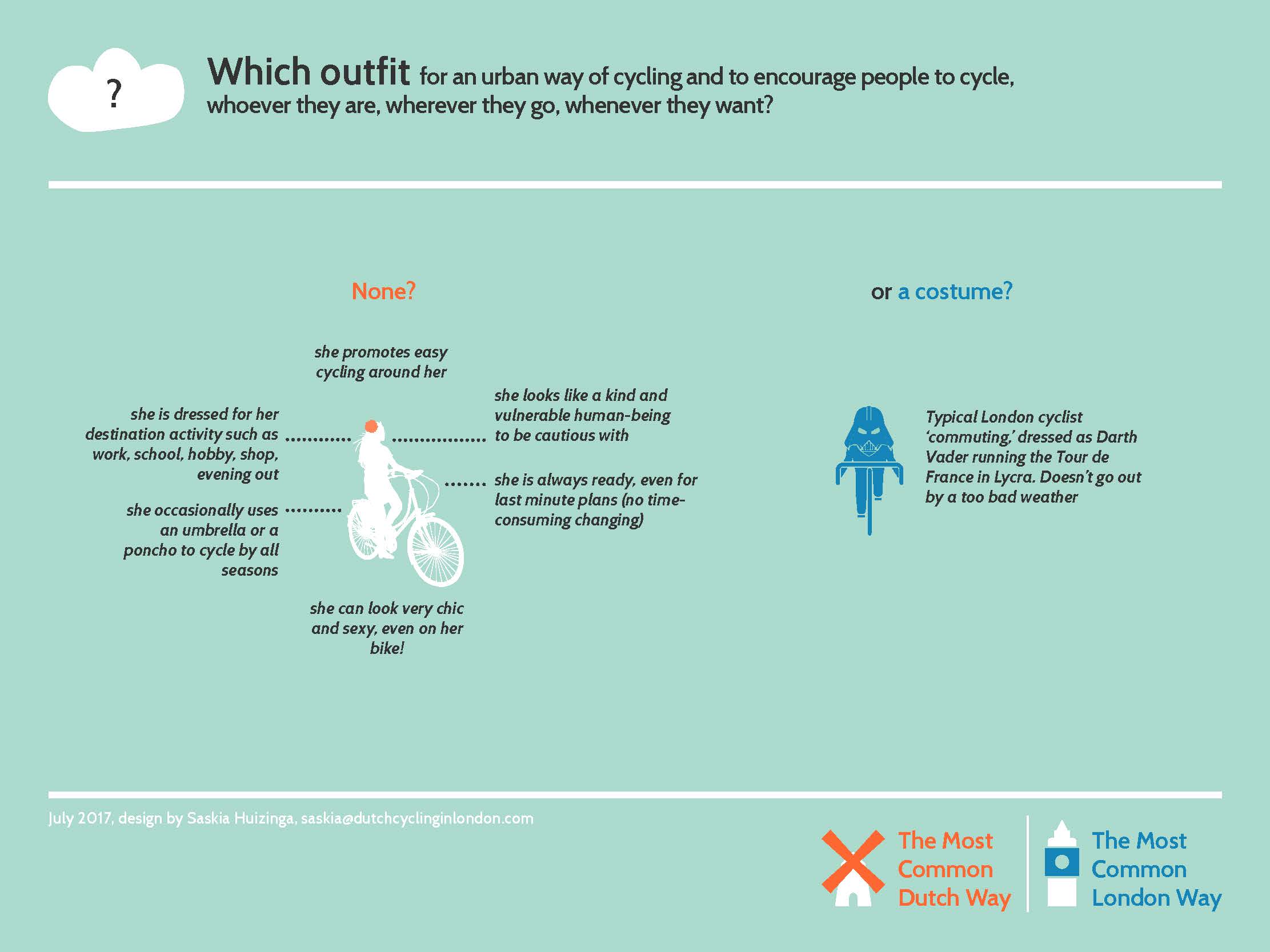 Thank you!
Are you already cycling in London? Great. Thank you for showing that it is possible to other road users, thank you for taking care of your health and the planet, thank you for supporting a sustainable way of living. We need you!
Cycling outfit
Wouldn't it be great if there were less motorised vehicles and more cyclists around you? If so, do you think your cycling outfit is doing the following?
Encouraging more cyclists of all types and backgrounds to cycle in London, in an easy and safe way,
Promoting a relaxed cycling lifestyle that supports community life and local economies.
In the Netherlands, people use their bikes for EVERYTHING. Not only to 'commute' to work in the Summer but to do their groceries, visit their friends, go out, go to their sports club and bring their children to school… at all times and seasons. This mean they can do up to ten small journeys each day, and sometimes more. Therefore cyclists do not wear any special outfit to cycle. It would be really too time-consuming and unpractical to dress and undress ten times a day!
Moreover wearing sport clothing is communicating the fact that you need to be very sporty and healthy to cycle. This is not true. Everyone can cycle, at their own pace or using an electric bike.
How do the Dutch do?
While it is understandable to wear special clothing if your journey is very long or if there's pouring rain, changing clothing is normally not necessary and it prevents you to be flexible and do more by bike. Tips to prevent you from sweating:
Cycle in a relaxed way. Unless you're cycling on a real cycle highway (non-stop like in the Netherlands), there are way too many things that you will need to stop for in an urban context (pedestrians, signs, lights, etc). You're saving time anyway because you will not have to change your cloths at home or work.
Put your bag in paniers instead of on your back.
Cycle straight instead of benched over your bike. This allows you to 'ventilate' more. Therefore not only your outfit is important but your bike too.
Sign up to our newsletter